Our Deepest Thanks and Appreciation
The officers of the Board of Victoria School Foundation and the Debuque family would like to extend our profoundest thanks and appreciation for the donations in cash and in kind received from VSF alumni, their families, and current and former teachers and staff during the wake of Victoria School Foundation's founder and long-term Directress. The funds amounting to Php 27,350 have been used to partially fund the rehabilitation of the Grade 1 and 2 classrooms, which are ready for this coming school year 2019-2020.
The donations came from alumni from:
VSF Batch 1976
VSF Batch 1977
VSF Batch 1978
VSF Batch 1982
VSF Batch 1981
VSF Batch 1980
VSF Batch 1988
Donations also came from:
Former Pre-School, Grade School, and High School Teachers and Staff (Cubao)
Former and current Pre-School, Grade School, and High School Teachers and Staff (Marikina)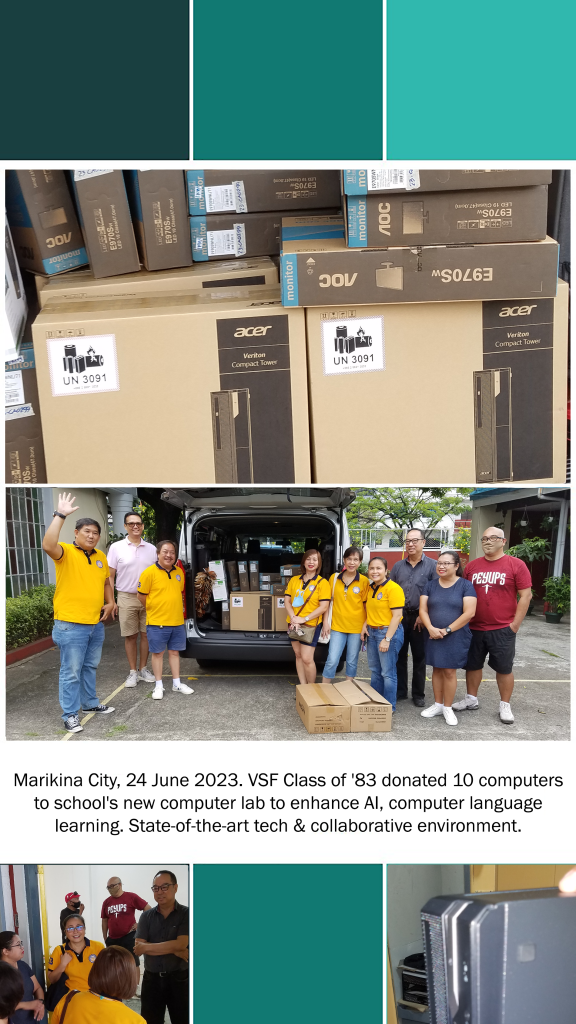 VSF Class of 1983 Donates 10 Computers to Enhance Students' AI and Computer Language Learning Experience
The VSF Class of 1983 recently donated 10 computers to the school's new computer laboratory. The donation will help to enhance students' learning experience in artificial intelligence (AI) and computer language learning.
The new computers are equipped with the latest software and hardware, which will allow students to learn AI and computer language programming in a state-of-the-art environment. The donation will also help to create a more collaborative learning environment, as students will be able to work together on projects and share ideas.
The VSF Class of 1983 is grateful to the school for the opportunity to give back to the community. The donation is a testament to the class's commitment to helping students succeed in the future.
The Board of Directors of VSF extended their warmest thanks and appreciation for Class 83's generous donation.