Register Online > Interview > Payment > WELCOME TO VICTORIA SCHOOL
For New Students: REGISTRATION FORM
Click link >> ONLINE REGISTRATION FORM
Wait for the message or email from the interviewer (via Google Meet)
Make the payment for the tuition & fees and books.
For assistance in filling-up the form, just send us a message thru FB messenger. A PDF format will be available soon.
Required documents maybe submitted thru our official email (registrar@vsf.edu.ph) within the first quarter of the school year.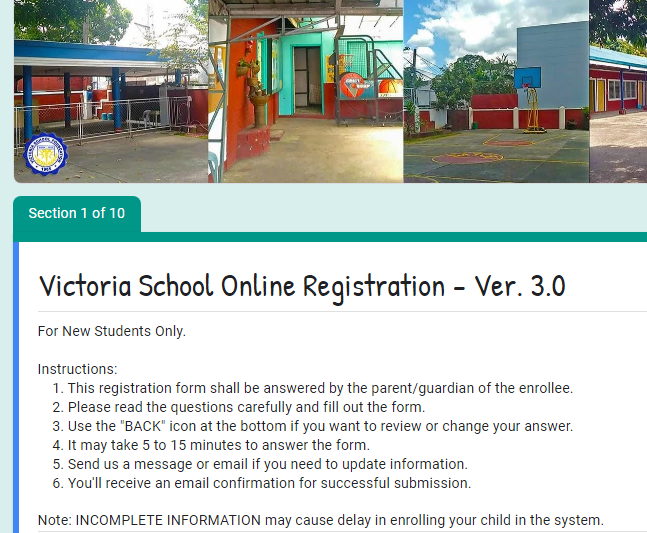 For Old Students Click Here > REGISTRATION FORM
TUITION & MISCELLANOUS FEES Payment Options: Annual, Semester & Monthly
Tuition & Miscellaneous Fees Breakdown
Send us a message thru email or visit us for a copy.
Payment Mode
Annual (Upon enrollment)
Semester (Upon enrollment & December 15)
Monthly (Upon Enrollment & Every 15th of the Month (August to April)
Send payment thru Bank Transfer
Metrobank – Parang-Marikina Branch
Account Name: Victoria School Foundation Inc
Account Number: 382-3-38253221-0
Add Email: accounts@vsf.edu.ph
Cash payments are accepted during office hours.
*Documentary Requirements for New Student or Transferee
Preschool

PSA Birth Certificate
Progress Report Card (if available)

Grade 1 to 6

PSA Birth Certificate
Report Card or Form 138 (Image File Acceptable)

Certificate of Good Moral Character

Junior High school – Grade 7 to 10

PSA Birth Certificate
Report Card or Form 138 (Image File Acceptable)
Certificate of Good Moral Character
*Submit requirements to registrar@vsf.edu.ph before the end of First Quarter Period.
Frequently Asked Questions:
Is it strictly no physical reporting to school for the entire year or would there be days when the child needs to attend physical class?
Only distance learning (online or modular) and homeschooling will be permitted, although the latter is under review for schools with no homeschooling offered prior to the pandemic. We are therefore offering options (online and modular learning) that can fit the different needs of our students.
What is the structure of online classes and how many hours would it be per day?
There will be online sessions conducted by their teachers using Zoom or a similar facility. Our faculty and school board will be meeting in the next couple of weeks to decide the overall structure and the finer details prior to start of classes.
Would there be offline work for the students?
There will be offline work for students, similar to the seat works and homework they have at school during normal (non-pandemic) times. These can be submitted in a way that is most convenient for the students/parents (i.e., physically or digitally).
What equipment and school supplies does the child need?
For online learning, the minimum would be a smart phone. A paper-size tablet would be ideal. For older students, the best option would be a laptop or desktop computer. School supplies they would need would be the same ones they would use in a physical classroom. As we always do, we will send a list of materials they would need before school opens. We will also have open communication lines–think of it as an online reminder notebook–for other needs.
What are the parents' role in online learning?
For younger students (Nursery to Grade 2), in the beginning at least, there should be a caretaker that can help the child operate the gadgets and take down the reminders.
Are the parents required to stay with the child during class?
Only initially, say the first 5-10 minutes, to set up the app which will be used (for online learning) or when instructions are being communicated (for modular learning).
Are textbooks and workbooks still needed?
Yes, these are staples for learning, we believe.
Will the tuition fee be reduced due to online classes?
We are currently discussing the final amount, but for certain we will find a way to lessen the costs, especially those that you pay for that will not be incurred with distance learning (i.e., some of the miscellaneous fees).